Updated By: LatestGKGS Desk
Prime Minister Narendra Modi launches 'Main Nahin Hum' app, Objectives, Details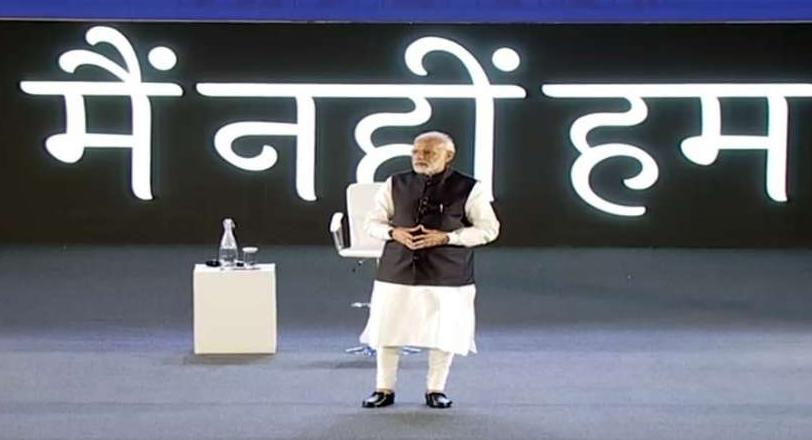 PM Narendra Modi launches 'Main Nahin Hum' portal for IT professionals based on 'Self-For Society' Theme
Prime Minister Narendra Modi launched the 'Main Nahin Hum' portal and app on October 24, 2018. This portal will work on the theme of 'Self-For Society'. This will give IT professionals and organizations a platform to work towards social issues. Through this, the weak section of the society is expected to help in using the technology.
During the program, Prime Minister Modi met many industrialists and addressed the IT professionals and employees of IT and electronic equipment companies. On this occasion, IT and electronics manufacturers from over 100 locations across the country are associated with organizing video conferencing.
Its purpose will be to encourage the widest participation of people willing to work for the betterment of society through that portal is to the weaker sections of the society the benefits of that day-to-day IT sector.
It will work on bringing the people associated with the IT sector, social organizations and social service together on this portal and hence its name is 'Main Nahin Hum'.
This move of the Modi Government is part of his Digital India, through which he wants to bring common people together on the platform through IT. Its purpose is to ensure that public services of using paper without access to the public electronically. One of the objectives of this scheme is to connect rural areas through the High-Speed Internet.
In the 2014 Lok Sabha election, Congress used 'I no, we' slogan. This slogan was used by BJP in the year 2011 before the Congress. Narendra Modi's 'I no, we' slogan was given in February 2011 only. Modi's campaign was linked to the works of the Gujarat government.