Updated By: LatestGKGS Desk
Goals of National Education Policy 2020 Values, GCED, Connecting to Environment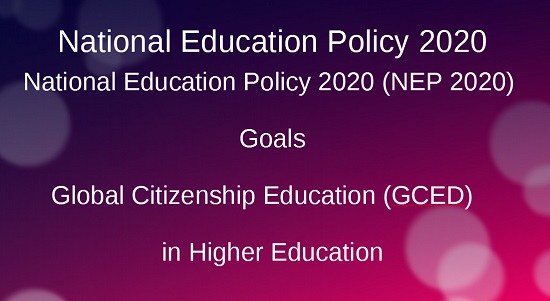 National Education Policy 2020 promoting values aiming towards Global Citizenship Education (GCED), connecting to the environment, and development peaceful societies
National Education Policy 2020 ensures the attainment of holistic and multidisciplinary education. National Education Policy 2020 promotes the flexible and innovative curricula of all Higher Education Institutions shall include credit-based courses and projects in the areas of community engagement and service, environmental education, and value-based education.

Under NEP 2020 Environmental education will include areas such as pollution, climate change, waste management, sanitation, conservation of biological diversity, biodiversity, and management of biological resources, forest and wildlife conservation, and sustainable development and living.

The core of National Education Policy promoting Value-based education that includes the development of humanistic, ethical, Constitutional, and universal human values of truth, righteous conduct, peace, love, nonviolence, scientific temper, citizenship values, and also life-skills; lessons in service and participation in community service programs will be considered an integral part of holistic education.

In the 21st century, As the world is becoming increasingly interconnected, Global Citizenship Education (GCED), a response to contemporary global challenges.
GCED will be provided to empower learners to become aware of and understand global issues and to become active promoters of more peaceful, tolerant, inclusive, secure, and sustainable societies.
Latest Higher Education Updates