Updated By: LatestGKGS Desk
National Education Policy 2020 Vision for Higher Education Ecosystem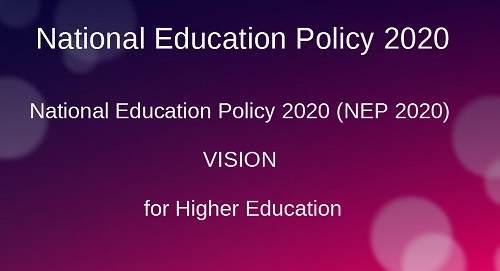 National Education Policy (NEP 2020) Vision for Higher Education
National Education Policy (NEP 2020) envisions a complete overhaul and re-energizing of the higher education system to overcome these challenges and thereby deliver high-quality higher education, with equity and inclusion.
The policy's vision includes the following key changes to the current higher education system:
(a) NEP 2020 ensure a higher educational system consisting of large, multidisciplinary universities and colleges, with at least one in or near every district, and with more HEIs across India that offer a medium of instruction or programs in local/Indian languages.
(b) NEP 2020 towards faculty and institutional autonomy;
(c) NEP 2020 ensure towards a more multidisciplinary undergraduate education;

(d) NEP 2020 reaffirming the integrity of faculty and institutional leadership positions through merit appointments and career progression based on teaching, research, and service.

(e) NEP 2020 revamping curriculum, pedagogy, assessment, and student support for enhanced student experiences;

(f) NEP 2020 ensures governance of Higher Educational Institutions by high qualified independent boards having academic and administrative autonomy.

(g) NEP 2020 works towards the establishment of a National Research Foundation to fund outstanding peer-reviewed research and to actively seed research in universities and colleges.

(h) NEP 2020 supports "light but tight" regulation by a single regulator for higher education.

(i) NEP 2020 ensures increased access, equity, and inclusion through a range of measures, including greater opportunities for outstanding public education,
- scholarships by private/philanthropic universities for disadvantaged and underprivileged students,
- online education, and Open Distance Learning (ODL);
and all infrastructure and learning materials accessible and available to learners with disabilities.