Updated By: LatestGKGS Desk
Sakharov Human Rights Prize 2016 win by 2 Yazidis of Iraq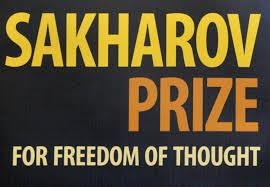 Nadia Murad and Lamiya Aji Bashar (yazidis from Iraq) won Sakharov Human Right Prize 2016 for Freedom of Thought
Nadia Murad and Lamiya Aji Bashar won Sakharov Human Rights 2016.
Both the women were among the Yazidi girls and were among the women who were kidnapped by thee IS militants in Iraq and were forced for sexual slavery in the year 2014.
They have escaped somehow and then stated a campaign against them for Yazidi Community.
The Sakharov Human Rights is presented by the European Parliament to the person Freedom of Thought
It is named after soviet scientist and Andrei Sakharov and is awarded annualy on 10th December which is celebrated as Human Rights Day.
It is awarded to the individuals or organisations who have dedicated their life for the defence of human rights and freedom of thought.
Latest Human Rights Updates