Updated By: LatestGKGS Desk
Human rights Day 10th December 2021: About, Details, History, significant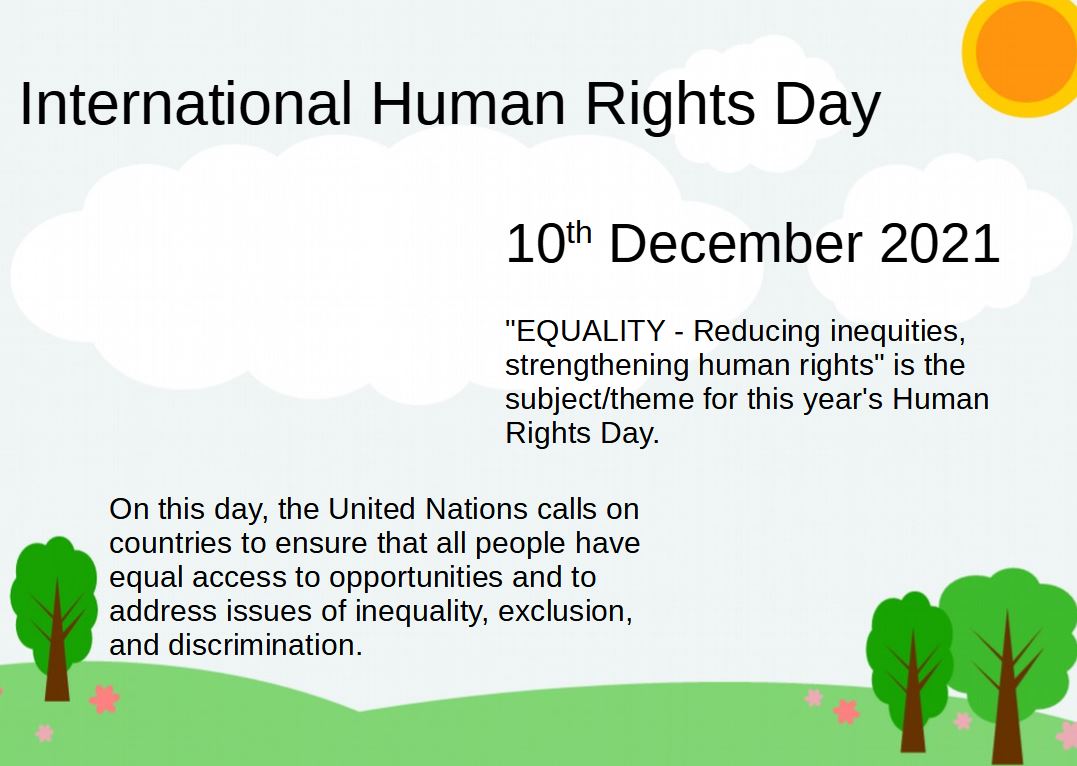 International Human rights Day 10th December 2021
Every year on December 10th, Human Rights Day is commemorated all around the world. The Universal Declaration of Human Rights (UDHR) was adopted and proclaimed by the United Nations General Assembly on this day in 1948, a text that describes the fundamental rights of all human beings that must be respected universally. It is the first global enunciation of human rights and one of the UN's major achievements.
To raise public awareness of people's social, cultural, and physical rights, as well as to assure everyone's well-being, the day is marked with high-level political conferences and meetings, as well as cultural activities and exhibitions dealing with human rights concerns. The five-yearly United Nations Prize in the Field of Human Rights and the Nobel Peace Prize are traditionally awarded on December 10th. Numerous civil and social-cause groups, as well as many governmental and non-governmental organisations working in the field of human rights, hold special activities to honour the day.
The theme of International Human rights Day 2021
"EQUALITY - Reducing inequities, strengthening human rights" is the subject/theme for this year's Human Rights Day.
Significant of Human rights Day
The principles of equality and non-discrimination are at the heart of human rights. Aligned with the '2030 Agenda' and the UN approach outlined in the document 'Shared Framework on Leaving No One Behind: Equality and Non-Discrimination at the Heart of Sustainable Development,' the theme also includes addressing and resolving deep-rooted forms of discrimination that have harmed society's most vulnerable people, including women and girls, indigenous peoples, people of African descent, LGBTI people, migrants, and people with disabilities, amo.
On this day, the United Nations calls on countries to ensure that all people have equal access to opportunities and to address issues of inequality, exclusion, and discrimination.
Human rights, according to the UN, should be at the heart of the post-COVID-19 world. Everyone was affected by the pandemic, and the accompanying problems fostered poverty, unfairness, and discrimination. We must take steps to close these gaps, according to the UN Human Rights Council, in order to construct a world that is better, more resilient, and more sustainable.