India and Bahrain Signs 4 Key Agreements: Details, Full List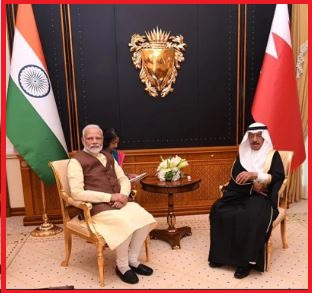 India and Bahrain Signs 4 Key Agreements: Details, Full List
Prime Minister of India Narendra Modi, reached to Bahrain on a two-day state visit on 24th August 2019. He received with a guard of honor at the Bahrain airport.
PM Narendra Modi is now the first Indian Prime Minister to visit Bahrain ever.

PM Narendra Modi held delegation-level talks with Bahrain PM Prince Khalifa Bin Salman Al Khalifa at Al Gudaibiya Palace.
On the occasion, India and Bahrain signed 4 Key Agreements in the fields of Culture, Space, Solar alliance.
1. ISRO and Bahrain's National Space Science Agency will collaborate in the area of space technology
2. India and Bahrain agreed on the collaboration of the Kingdom with the International Solar Alliance (ISA).
3. India and Bahrain also agreed on cultural exchange programs.
4. India and Bahrain also signed MOU on the roll-out of RuPay card.

Background
India and Bahrain have had economic and trade relations for several centuries.
Bahrain's investment in India amounts to 173 billion dollars through FDI.