PM Narendra Modi in France sign 4 MoUs: Details, Features, Significance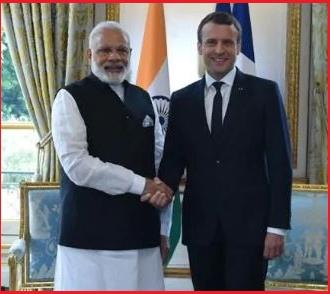 PM Narendra Modi in France sign 4 MoUs: Details, Features, Significance
Indian Prime Minister Narendra Modi has officially visited France from 22nd to 23rd August 2019, where he met the President of France, Emmanuel Macron.
PM Narendra Modi and President Emmanuel Macron held a bilateral summit in Paris, France. During the talks, both the nation's leaders discussed their bilateral relations and ways to open new areas of cooperation for India and France.
On the occasion, India and France sign 4 MoUs which are as follows:
Administrative arrangement for cooperation in skill development and vocational training.
Memorandum Of Agreement between National Institute of Solar Energy (NISE) and Indian Ministry of New and Renewable Energy.
Cooperation agreement for cooperation in the fields of quantum computing, Artificial Intelligence, and exascale supercomputing.
Implementing arrangement for Joint Maritime Domain Awareness.
PM Narendra Modi will now participate in the G7 Summit scheduled to be held from 25th August 26th August 2019 in Biarritz.
France
Capital: Paris
Largest City: Paris
Currency: Euro (EUR), CFP Franc (XPF)
Official Language: French
President: Emmanuel Macron
Prime Minister: Édouard Charles Philipp