Updated By: LatestGKGS Desk
Indonesia celebrating Hindu New Year 2018 as Day of Silence Nyepi Day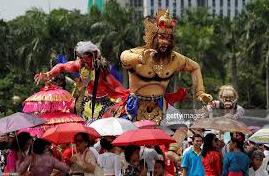 Indonesia To Celebrate Hindu New Year 2018 As Day of Silence Nyepi Day Details, Date, Significance
Indonesia will celebrate the Hindu New Year 2018 starting on 17th March 2018 (Saturday) as the 'Day of Silence' or Nyepi.
Indonesia Government, on the occasion of Hindu New Year-2018, which is starting from 17th March, has passed an order for the first time to its Telecom companies to stop its Internet services for 24 hours and also to halt all flights & close the Bali Airport.
The Hindu New Year, locally known as Nyepi, is a Balinese "Day of Silence" as a holiday. On this day, Hindus residents on Bali are supposed to stop all their work, play and remain indoors. They also maintain distance with fire, cooking and entertainment or even stop talking.
On Nyepi Day, Hindu-dominated Island (Bali) stops all their daily regular activities for a day of meditation, fasting and introspection, an annual rite that includes elaborate beachside ceremonies and demon-like effigies while unmarried people kiss each other as residents pour buckets of water over them in a ceremony called Omed-Omedan.
As per the source, Indonesian Government took this initiative as most of the Hindus community is been habitual to Gadgets, halting them for 24 hours to use internet may help them to meditate and introspect.
This is the First time ever Indonesian Government has taken this historic decision to totally stop Internet access although some Government Banks & Public Places will remain working. Timings to stop Internet services would be seen from 6:00 AM (17th March 2018) till 6:00 AM (18th March 2018)