Updated By: LatestGKGS Desk
Surat: First Indian District to have 100% Solar Powered Health Centres Details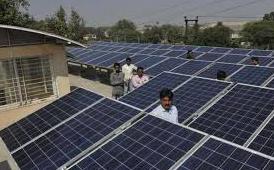 Surat: First Indian District to have 100% Solar Powered Health Centres- Details, Features
In a significant move when global warming is rising day by day, Gujarat's Surat district has redirected to solar power to suppress this major problem.
Surat district has become the first district in India to have 100% solar powered Primary Health Centers (PHC). Surat district has a total of 52 PHCs and all of them are now powered by the solar panel system.This major initiative will not only bring down the people's electricity bill by 40% but also help fight global warming.
Surat district apart from PHCs, there are 572 Gram Panchayats, out of which 150 are solar powered and soon the other 422 Gram Panchayats will too get solar powered.
The total expense of making the Gram Panchayats solar powered has been made by the District Panchayat by 25 % and the rest 75% is been funded by Gujarat's State Government.
Surat district with this feat has set an example for the country by developing villages that use sustainable forms of energy.
Latest Ministry Of New And Renewable Energy Updates