Updated By: LatestGKGS Desk
Indian railways: 400 trains vie for top swachchhta honours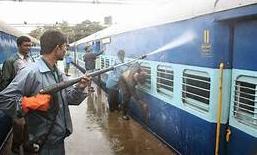 An independent survey on cleanliness will be carried out every year
The Indian Railways has undertaken a 'clean train competition' involving about 400 trains to start with. These also include premium trains like Rajdhani and Shatabdi expresses.
A similar survey was conducted on railway stations all over the country in 2016 as part of the Government's Swachchh Bharat Abhiyan.
Details of the survey
A total of 475 rakes of these 210 trains are to be audited out of which 386 rakes have already been surveyed by a third party auditor engaged by IRCTC.
Indian Railways network has about 12,500 trains and about 7,000 railway stations carrying about 2.5 crore passengers every day.
The assessment parameters will include checking onboard facilities - the condition of the toilets, equipment, tools, manpower, vestibules, doorways, dustbin, linen, pest management, watering, waste management, onboard housekeeping staff.
The checking starts right before the trains start their journey till the arrival at the destination station.
The survey will be conducted both based on passenger feedback and audit.
This is the third such survey initiated by railways to maintain cleanliness in the railway network. The next survey report for cleanliness is expected by the Quality Council of India (QCI) for the stations in the month of July 2018.