Updated By: LatestGKGS Desk
NITI Ayog Signed SOI with Bollywood Actor Sushant Singh To Support Its WEP Initiative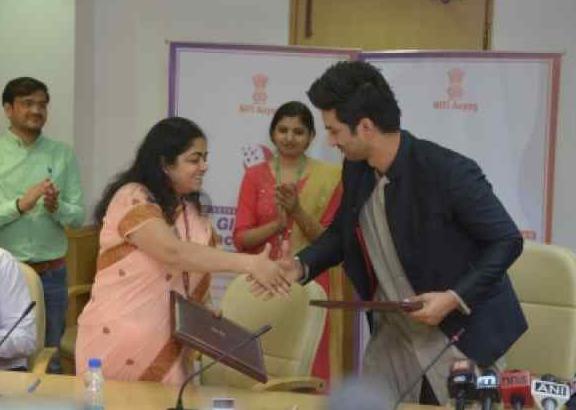 NITI Ayog Signed SOI with Bollywood Actor Sushant Singh Rajput To Support WEP Initiative
NITI Aayog has signed Statement of Intent (SoI) with Bollywood actor and entrepreneur Sushant Singh Rajput to collaborate and support its flagship Women Entrepreneurship Platform (WEP) initiative.
Actor Sushant Singh Rajput in his role turned entrepreneur will support NITI's initiative for women entrepreneurs, to fund women-led startups to establish a vibrant, enabling entrepreneurial ecosystem for women of the country.
Sushant Singh Rajput will also promote Bharat Interface for Money (BHIM) digital payments app for the cashless economy by appearing in the various video, print and social media campaigns of NITI Aayog.
Actor Sushant Singh Rajput will also support NITI Aayog in promoting Women Transforming India Awards 2018 with the theme 'Women and Entrepreneurship'.
NITI Aayog's Women Entrepreneurship Platform (WEP)
NITI Aayog had launched Women Entrepreneurship Platform (WEP) in March 2018 on the occasion of the International Women's Day.
The WEP main objectives are to build an ecosystem for women across India and to realise their entrepreneurial potential, scale-up innovative initiatives and chalk-out sustainable, long-term strategies for their businesses.
The WEP aims to power vibrant entrepreneurial ecosystem through enabling a network of industry collaborations, partnerships, mentors and peer-to-peer connect.
The WEP helps aspiring women entrepreneurs in 3 different ways which are manifested as its three pillars. They are as follows:
Ichha Shakti: Motivating aspiring entrepreneurs to start their enterprise.
Gyaan Shakti: Providing knowledge and ecosystem support to women entrepreneurs to help them foster entrepreneurship.
Karma Shakti: Providing hands-on support to entrepreneurs in setting-up and scaling up businesses.