Updated By: LatestGKGS Desk
Negrito community Jarawa tribe of Andaman History, Features, Origin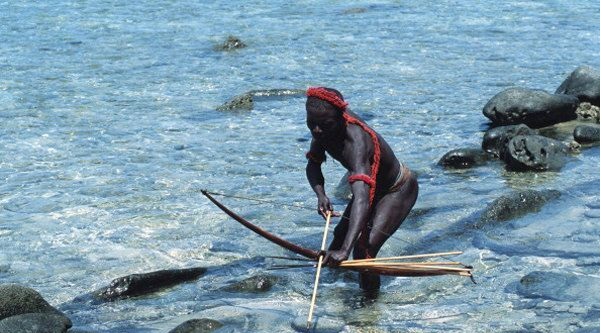 Jarawa tribe of Andaman: Important Fact
Jarawa tribe is one of the 6 tribal tribes of the Andaman and Nicobar islands.
This tribe belongs to the tribe of the "Negrito community".
At present, this tribe lives in the western part of central Andaman and in the south of the Andaman region.
This tribe still hunts in the herd and hunts and gathers food.
The place where Jarwa tribe lives were declared a Tribal Reserve area by notification in 1979.
The "Jarawa tribe" of Andaman has been residing for the last 55,000 years on the islands of Indian Ocean.

Origin of the people of Jarawa tribe is considered the continent of Origin Africa.

The "Jarawa tribe" is considered the oldest tribe in the world, which is still living in the Stone Age.
People of "Jarawa tribe" still hunts with bow arrows and hunt fish and crabs with it.
People of Jarwa tribe still live without clothing, but in recent years due to the exposure of tourists, many Jarawa are now seen wearing some clothes.

People of Jarva tribe are very fond of singing and dancing, singing and dancing in a rhythm and rhythm and playing their traditional musical instruments.

The people of Jarawa tribe have immense resistance to disease, besides they have very good knowledge of herbs, due to which they have been living in the jungles for so many years without any medical conditions.
People of Jarwa tribe eat pork very bitterly. They make pigs by creating groups.

The Andaman and Nicobar Administration, through the press release of 16.10.2017, it has been clarified that posting of photographs and videos related to this tribe on any social networking site is a legal offence, and the person is sentenced to 3 years in jail for violating it. Can also happen.
In the year 1990, the "Jarwa tribe" provided local government accommodation to stay, but only a few Jarawa came out of their area.

Only one Andaman trunk road passes through Jarawa tribe area.
In order to go to the Jarwa area, the carriage continuously passes without any permission and no vehicle is allowed to stop.
Restrictions for tourists staying in "Jarwa tribe" areas are prohibited.