Updated By: LatestGKGS Desk
GK Questions 13th July 2019 General Knowledge, Current Affairs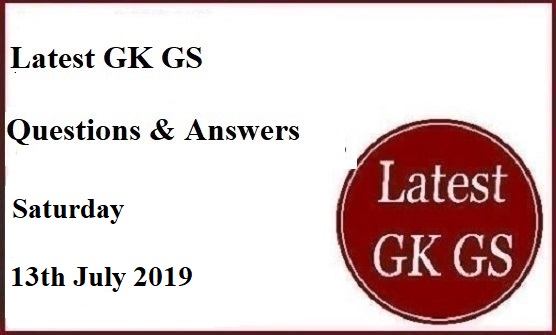 Daily GK Questions Saturday 13th July 2019 General Knowledge, Current Affairs
1. Roger Federer will be facing which tennis player in Wimbledon 2019 semi-finals?
Ans: Rafael Nadal
2. Which among the following platforms would be introducing 'Learning Playlists' for educational videos?
Ans: YouTube

3. The Super 30 movie starring Hrithik Roshan is a biopic based on whose life?
Ans: Anand Kumar

4. Which company has recently acquired the American software company Red Hat?
Ans: IBM

5. In order to prevent the sale of unauthorized water bottles, by which name has the campaign was launched by RPF?
Ans: Operation Thirst

6. Name of the virus that hit 1.5 crore android devices across the country recently.
Ans: Agent Smith

7. India's Child mortality reduced to what percent as per the Multidimensional Poverty Index 2019?
Ans: 2.2 percent

8. Which public sector bank recently announced to do away with charges on NEFT and RTGS transactions through the internet and mobile banking from July 1?
Ans: SBI

9. Who was appointed as the Secretary (Overseas Indian affairs) in the External Affairs Ministry?
Ans: Vikas Swarup

10. Which state plans to develop Centres of Excellence for skill development in the Aviation Industry?
Ans: Gujarat