GK Questions 12th July 2019 General Knowledge, Current Affairs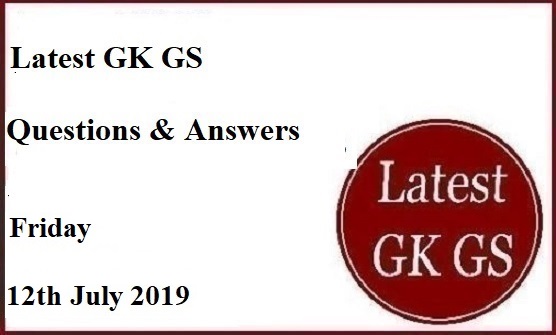 Daily GK Questions Thursday 11th July 2019 General Knowledge, Current Affairs
1. Which countries are playing the World Cup 2019 finals?
Ans:- England and New Zealand
2. Which country was recently declared measles free by the World Health Organization?
Ans:- Sri Lanka

3. Which Indian sprinter won gold in 100m race during 30th Summer University Games held in Italy?
Ans:- Dutee Chand

4. Which Indian city will host women Startup Summit on August 1, 2019?
5. Prasar Bharati signed an MoU with which among the following institutes for research collaboration in newly emerging technologies?
6. Which nation's Supreme Court has stayed the government's move to roll back pesticide testing on vegetables, fruits from India?

Ans:- Nepal

7. Which car company launched India's first fully electric SUV in New Delhi?
8. WCD Ministry is implementing which scheme for the rehabilitation of women in difficult circumstances?
Ans:- Swadhar Greh Scheme

9. Which state government recently decided to pay compensation worth Rs 7-7 lakh to the families of farmers who have committed suicide in the last five years?
Ans:- Andhra Pradesh
10. According to the 10th Agriculture Census (2015-16), what is the percentage of operating ownership of women in agriculture increased from 13% in 2010-11 to the year 2015-16?
Ans:- 14 percent
11. Who was appointed as Director General (DG) in Directorate General of Civil Aviation (DGCA)?
Ans:- Arun Kumar
12. When was the World Population Day 2019 celebrated around the world?
Ans:- 11th July 2019