Updated By: LatestGKGS Desk
GK Questions 30th July 2019 General Knowledge, Current Affairs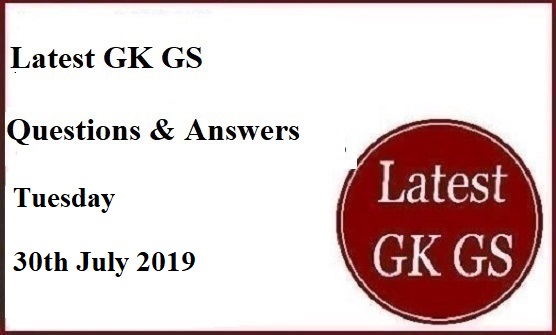 Daily GK Questions Tuesday 30th July 2019 General Knowledge, Current Affairs
1. Google Doodle celebrates which Indian personality birthday on 30th July 2019?
Ans: Muthulakshmi Reddi
2. Which among the following leaders will be seen guest-starring in a Man vs Wild episode with host Bear Grylls?
Ans: Narendra Modi

3. KR Ramesh Kumar resigned as Speaker of which State Assembly??
Ans: Karnataka

4. Who becomes new Governor of Uttar Pradesh?
5. When is the World Day Against Trafficking in Person Celebrations held every year?
Ans: 30th July
6. Which IPS officer becomes new BSF Director-General?
Ans: VK Johri

7. ICC has officially launched which cricket format championship?
Ans: World Test Championship (WTC)

8. India has signed an agreement with which among the following countries to enable visa-free travel?
Ans: Benin
9. When will Sawan Shivratri be observed in 2019?
Ans: 30th July
10. Which state has received a GI tag for its rasagola?
Ans: Odisha
11. When is International Tiger Day observed every year?
Ans: 29th July