Updated By: LatestGKGS Desk
One Of The Largest Airport Of World Starts Operations In Istanbul Features, Facts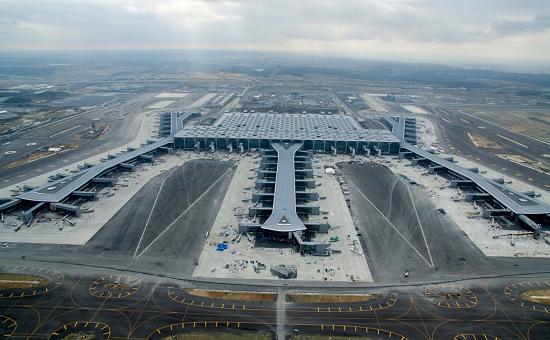 One Of The Largest Airport Of World Inaugurated In Istanbul And About $ 7 billion has been spent
The first stage of a grand airport project was inaugurated in Istanbul, a major city in Turkey. After the airport is fully prepared, it will be one of the largest airports in the world.
This project is expected to be completed within 10 years i.e. by 2028. By the end of 2018, more than 2,000 aircraft will fly for 350 locations here.
Nine million people will travel here every year. After completion of the project, about 20 million people will be flying from here to various places in the world.
In terms of passengers, the busiest airport in the world is America's Atlanta Airport, from which 10.4 million people fly every year.
Following Atlanta, Beijing Airport is at number two with 9.57 million passengers.
Then at the third number with 8.82 million passengers, the Los Angeles Airport is at number five with Dubai, 8.54 million passengers and Tokyo fourth and 8.45 million passengers traveling each year.
In the 7.65 million square meter area, this will be the airport. It is claimed that there will be a place to park around 70 thousand cars here.
About $ 7 billion (about $ 500 billion) has been spent. Two runways have been started from Monday, which is 3,750 meters and 4,100 meters in length.
In addition to being the world's largest and busiest airport, it will also be one of the most beautiful airports in the world.