Updated By: LatestGKGS Desk
India and Israel sign 7 MoU in innovation, agriculture & space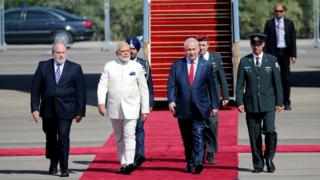 PM Narendra Modi and PM Bejamin Netanyahu signs 7 agreements MoU for development, research and innovationI
Indian Prime Minister Narendra Modi and Israel Prime Minister Benjamin Netanyahu sign for development MoU. There are seven agreements promoting Industrial Development, Agricultural Development, Water Conservation, Satellites and others fields where India lacking in progress.
According to Narendra Modi, India is much close to Israel to protect their strategic interests and also cooperate to fight growing radicalization.
He also anounced that they regard thriving two-way trade and investment which will flow as the bed-rock of a strong partnership of India and Israel.
Details of Agreement between India and Israel on Narendra Modi's visit to Israel
India and Isarel agreed to fight against forces of terror.
India and Israel have signed seven agreement including agreement between ISRO (Indian Space Research Organization) and Israel Space Agency and The Ganga agreement.
The agreements are signed between India and Israel over Industrial Development, Water Conservation, Water management, Agriculture, agreement, atomic power energy, GEO-LEO Optical Link and agreements over satellites have been signed.
Hence India PM Narendra Modi and Israel PM Benjamin Netanyahu signs seven agreement three on space, two on water, one on innovation and in agriculture.