Updated By: LatestGKGS Desk
President Pranab Mukherjee A Statesman Book launch on 2nd July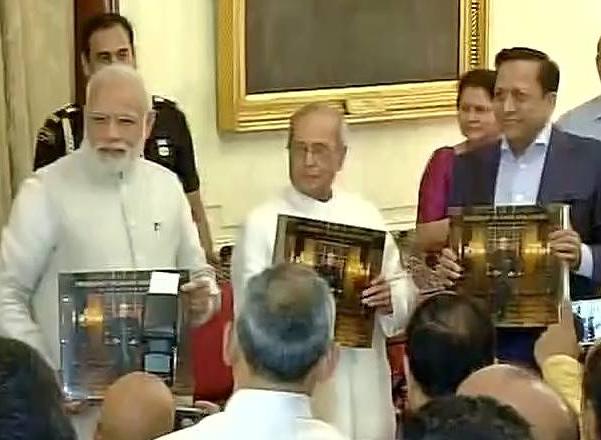 PM Narendra Modi releases a book on and President Pranab Mukherjee - President Pranab Mukherjee A Statesman book in Rashtrapati Bhavan
PM Narendra Modi attends ceremony of launch of President A Statesman book on President Pranab Mukherjee at the Rashtrapati Bhavan today July 2, 2017.
According to Prime Minister Narendra Modi, during the emergency he gets chance to work with leaders and workers of very different ideologies.
PM Narendra Modi adds, Presidency is much more than protocol. Through the photographs in book, we see human side of our President and feel proud.
Prime Minister Narendra Modi prises support and guidance from President Pranab Mukherjee
PM Narendra Modi talks about blessings he recieved from president and the chance he got work with Pranab Da at the event of the book launch.
Narndra Modi further tells he admire President Pranab Mukherjee as father figure in his life.
President A Statesman book launch is a celebration attended by PM and President on set of President Pranab Mukherjee's retirement on 24th July 2017.
Latest Pranab Mukherjee Updates