PM Narendra Modi List Of Prestigious International Awards 2014 To 2019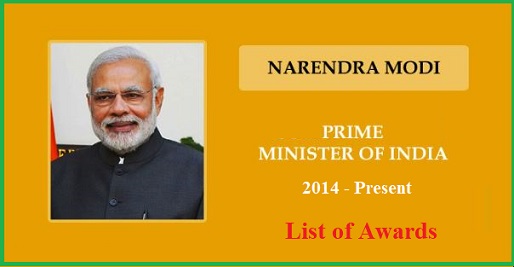 PM Narendra Modi List Of Prestigious International Awards 2014 To 2019
PM Narendra Modi is 14th Prime Minister of India. He was elected for the second term back to back by winning 2014 and 2019 Lok Sabha Elections.
Here is the list of the prestigious International awards conferred upon PM Modi
1. Prime Minister Narendra Modi on 8th June 2019, was conferred with the Maldives' highest civilian award, the 'Order of the Distinguished Rule of Izzudeen', by the President of the Maldives, Ibrahim Mohamed Solih.
2. Russia honors PM Narendra Modi with 'Order of St Andrew the Apostle', the highest order of the Russian Federation, for promoting partnership and friendly relations between the two countries on 12th April 2019
3. The United Arab Emirates (UAE) on 4th April 2019 honored PM Narendra Modi with 'Zayed Medal', its highest decoration in recognition of his "pivotal role" in strengthening ties between the two nations.

4. PM Narendra Modi on 14th January 2019 conferred with the first-ever 'Philip Kotler Presidential Award'.
5. PM Narendra Modi awarded with prestigious 'Seoul Peace Prize 2018' for 'Modinomics' on 24th October 2018. With this, PM Modi became the 14th recipient of this coveted award.
6. PM Modi honored with UN Champions of the 'Earth Award 2018', the highest environmental honor of the United Nations. Modi received the award on 3rd October 2018 by UN Secretary-General Antonio Guterres.
7. Prime Minister Narendra Modi was on 10th February 2018 conferred with the 'Grand Collar of the State of Palestine' by Palestinian President Mahmoud Abbas, recognizing his contributions in promoting relations between India and Palestine.
8. Prime Minister Narendra Modi, during his stint visit to Afghanistan, was on 4th June 2016 conferred with the 'Amir Amanullah Khan Award', the highest civilian honor of Afghanistan for the inauguration of the landmark Afghan-India Friendship Dam.
9. Prime Minister Narendra Modi was on 3rd April 2016, conferred with Saudi Arabia's highest civilian honor 'King Abdulaziz Sash' by King Salman bin Abdulaziz at the Royal Court of Saudi Arabia.