Indian Railway Minister Piyush Goyal awarded 4th annual Carnot Prize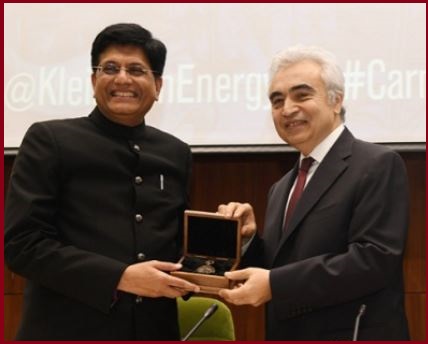 Indian Railway Minister Piyush Goyal awarded 4th annual Carnot Prize: Details, Achievements
Union Minister of Railways & Coal Piyush Goyal was on 30th January 2019, awarded with the 4th annual Carnot Prize by the Kleinman Center for Energy Policy at the University of Pennsylvania School of Design in New Delhi.
Piyush Goyal received the Carnot prize for his work towards sustainable energy solutions. This award rewards the works done by Piyush Goyal to reform the electricity sector and extended access to electricity program-24x7 Affordable, Environment-Friendly Power for all, as India eliminated decades of darkness in more than 19,000 villages on 28 April 2018.
About Carnot Prize
The Carnot Prize is the Kleinman Center's annual recognition of distinguished contributions to energy policy through scholarship or practice.
The Carnot Prize is the most prestigious award in the energy sector, named after French physicist Nicolas Sadi Carnot who recognised that the power of the steam engine would "produce a great revolution" in human development.
The Carnot Prize is intended to honor those leading revolutions in energy policy to further progress and prosperity.
The previous winners of Carnot Prize include Dr. Daniel Yergin, Vice-chairman of IHS, Dr. Fatih Birol, Director of International Energy Agency and Gina McCarthy who is a career public servant in fields of energy and environment.