Updated By: LatestGKGS Desk
North Korea: Missile Test, Ballistic Missile, Sinpo naval shipyard, Details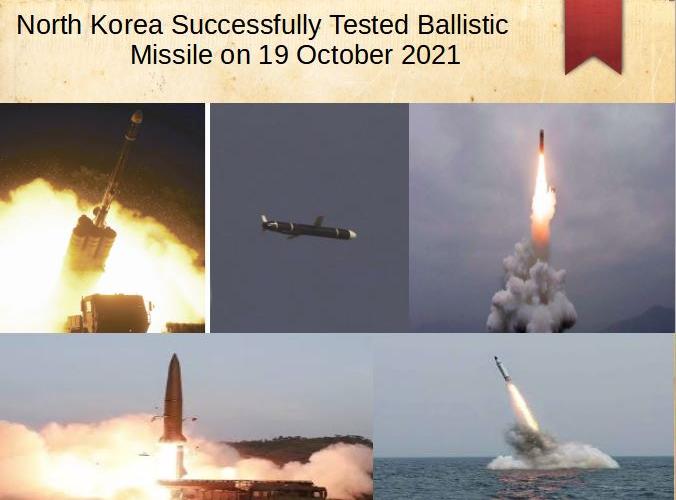 North Korea Successfully tested Ballistic Missile, The Sea of Japan: About Missile
According to the South Korean military, North Korea fired a ballistic missile into the Sea of Japan on Tuesday 19 October 2021. According to CNN, South Korea stated the missile appeared to have been launched from a submarine.
According to AFP, the missile was launched from North Korea's Sinpo naval shipyard. Submarines have been spotted at the facility in the past.
According to Reuters, South Korea's Joint Chiefs of Staff said, "Our military is actively monitoring the situation and maintaining a readiness posture in close cooperation with the United States to prepare for possible subsequent launches."
The country launched two missiles off its eastern coast on September 15. North Korea had just tested a new long-range cruise missile that had the capacity to target Japan a few days prior.
North Korea is prohibited by international law from testing nuclear weapons or ballistic missiles.
South Korea's national security council conducted an emergency meeting following Tuesday's launch, while Japan termed the test as "regrettable," according to Reuters.
About Ballistic missile
A ballistic missile travels along a ballistic trajectory to deliver one or more warheads to a specific target. These weapons are only guided for a short time—the majority of the flight is unpowered... These weapons are not to be confused with cruise missiles, which are guided by aerodynamics and fly in powered flight.