President Ram Nath Kovind Approved Governor's Rule in J&K After BJP-PDP Split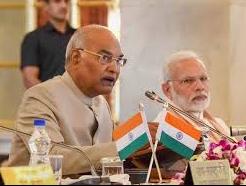 President Ram Nath Kovind Approved Governor's Rule in J&K After BJP-PDP Split-Details
President Ram Nath Kovind on 20th June 2018, has approved the Governor's rule in Jammu and Kashmir (J&K) following the resignation of Mehbooba Mufti as Jammu and Kashmir's Chief Minister.

The move came hours after the Bharatiya Janata Party (BJP) pulled out of its alliance with Mehbooba Mufti's Peoples Democratic Party (PDP), citing the "critical security situation" in the Kashmir Valley.

After BJP-PDP split, the Union Ministry of Home Affairs (MHA) had submitted a detailed report to the President regarding the Governor's rule after receiving it from J&K Governor NN Vohra.
Now, Jammu and Kashmir will be in the hands of Governor NN Vohra, who will be running the state for the fourth time.
This is the 8th time in last four decades that Jammu and Kashmir have been put under Governor's rule and 4th during the tenure of Vohra since 2008.