Updated By: LatestGKGS Desk
Indian Railway Smart Coach from Coach Factory Raebareli Features, Safety Details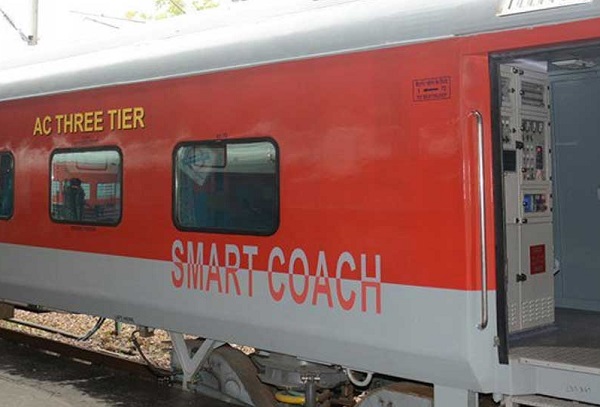 Make In India Smart Coach from Coach Factory Raebareli Features, Safety, Artificial Intelligence Capability, Passengers Security
Indian Railways unveiled its state-of-the-art coaches built in modern coach factory, Raebareli. These smart coaches have many new features which will help increase the safety of passengers. According to the Ministry of Railways, 100 and smart coaches are being constructed under the pilot project.
The new Smart Coach will work on the diagnostic system. This means that a special vibration sensor has been installed on their wheels, called Self Power Harvesting Sensor.
If the sensor tracks or tracks are weak or there is no flaw in it then it will be able to detect it. After detecting any deficiency, its alert will be immediately sent to the railway control room.
Smart Coach will also provide the next station and location information. This coach has also been equipped with the Passenger Information and Coaching Computing Unit (PICCU) with the GSM network which will mainly monitor the critical area of coach maintenance and passenger interfaces.
CCTV cameras with Artificial Intelligence capabilities have been installed in the coach. This will make it easier to keep track of housekeeping, TT, train pants, suspicious passengers.
Talkback system has also been applied for an emergency, Water Level Indicators have also been installed and Features such as disc brake system, fire detection, alarm system Smart coaches have been provided with WiFi, hotspot, information system.