Updated By: LatestGKGS Desk
Link-Hoffmann-Busch (LHB) coaches features, speed, passengers safety details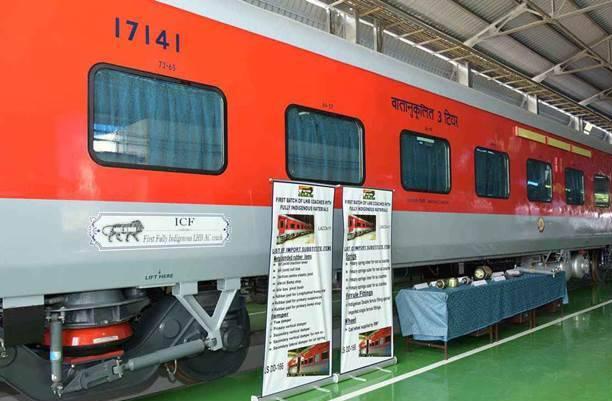 Indian Railways Link-Hofmann-Busch (LHB) coaches history, speed, safety features
The LHB Coach was developed by Link-Hofmann-Busch of Germany, which has since been manufactured in India. The beginning of making the red colored coach LHB (Linke Hofmann Busch) started in the year 2000. It has been designed by the German company Linke Hofmann Busch (M/S ALSTROM Linke Holf Busch Germany). These coaches are made in Rail Coach Factory Kapurthala.
LHB (Linke Hofmann Busch) coaches are red in color. LHB coaches uses Disc brakes system. Due to Disc Barkes it stops in a very short distance at very high speeds.
The suspension of LHB coach is hydraulic so it makes less noise. It also gets side suspension which does not allow the passengers to feel the tremors.
Maintenance cost of modern LHB coaches are comparatively less.
LHB coaches are longer. This is the reason why its sleeper has 80 seats and third AC coach has 72 seats.
Latest Indian Railways Updates