Updated By: LatestGKGS Desk
PM Modi increases remunerations for Asha and Anganwadi workers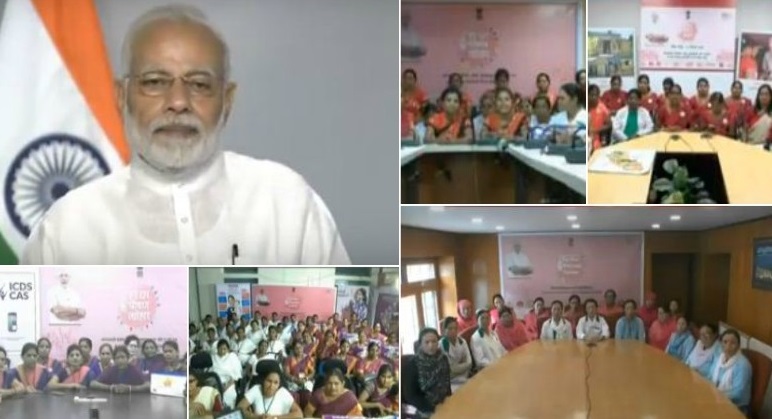 Prime Minister Narendra Modi increases remunerations of Asha and Anganwadi workers additional to free premium for Prime Minister Jeevan Jyoti Insurance and Pradhan Mantri Suraksha Bima Yojana
Prime Minister Narendra Modi has announced an increase in the remuneration paid to people belonging to Asha and Anganwadi people on September 11, 2018. The Prime Minister spoke directly with the hope of the country and Anganwadi workers through social media.
This increased remuneration of Asha and Anganwadi workers will be effective from next month i.e. one October. The central government has increased the share of the Center in the honorarium of Asha and Anganwadi workers across the country.
Increasing the stimulus amount doubled:
Aspirants will be doubled by encouraging the increase, while the honorarium of Anganwadi workers has been increased from Rs. 3000 to Rs. 4500.
Anganwadi workers who had an honorarium of Rs 2250, would now get Rs 3500. Anganwadi assistants will get Rs. 2250 instead of 1500 rupees.
Asha workers will be given Prime Minister Jeevan Jyoti Insurance and Pradhan Mantri Suraksha Bima Yojana free. This means that no two premiums will be paid under these two insurance plans of two lakh rupees and the government will bear this expenditure.
It is notable that in the Parliament, members of various parties have been demanding from time to time to increase honorarium of Asha Workers and Anganwadi workers.
The Prime Minister said that the focus of the government is on nutrition and providing quality health care. The process of vaccination is going on fast. This will help women and children very much. So far, more than 300 million children and more than 85 lakh women have been vaccinated.
Latest Prime Minister Updates