Updated By: LatestGKGS Desk
GK Questions 20th October 2019 General Knowledge, Current Affairs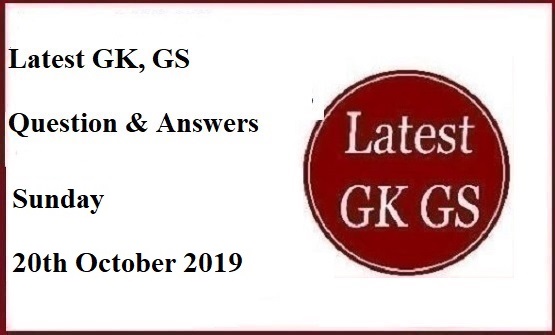 GK Questions 20th October 2019 General Knowledge, Current Affairs
1. How many days IRCTC's Special Buddha Circuit train will take to complete its journey?
Ans: Eight
2. Which of the following player has made a debut for the third and last match of India vs South Africa Series at the age of 30?
Ans: Shahbaz Nadeem
3. How many women astronauts did a spacewalk, without a male astronaut, for the first time in the history of Space?
Ans: Two
4. In which school has Union Defence Minister Rajnath Singh approved the proposal to give admission to girls from the session 2021-22?
Ans: Sainik School
5. The culture department of which state government is going to organize the country's first training and demonstration program for the world-famous 'Khon Ramlila'?
Ans: Uttar Pradesh
6. Which of the following country will organize 91st Interpol General Assembly in 2022?
Ans: India
7. Which two states will witness assembly elections on 21 October 2019?
Ans: Maharashtra and Haryana
8. Who was appointed as the Director-General of the National Security Guard (NSG)?
Ans: Anup Kumar Singh
9. How many agreements were signed between India and the Philippines during President Ram Nath Kovind's visit to Manila?
Ans: Four
10. What is the name of Oracle's CEO who was recently passed away?
Ans: Mark Hurd
11. Who became India's 65th Grand Master at the age of 13 years?
Ans: Raunak Sadhwani