Updated By: LatestGKGS Desk
GK Questions 19th October 2019 General Knowledge, Current Affairs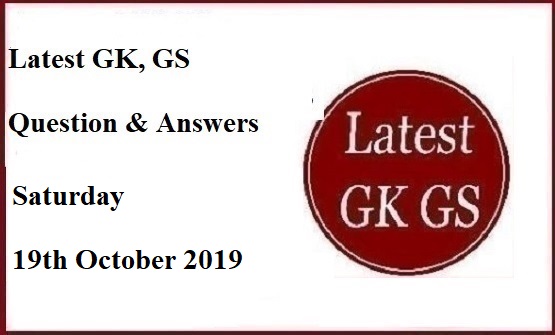 GK Questions 19th October 2019 General Knowledge, Current Affairs
1. Which State's Legislative Council was abolished recently on October 18, 2019?
Ans: Jammu & Kashmir
2. Who has been recommended to be appointed as the 47th Chief Justice of India?
Ans: Justice SA Bobde
3. Which State topped the India Innovation Index 2019 of NITI Aayog?
Ans: Karnataka
4. Which organization recently retained Pakistan on its Grey List for its failure to combat terror funding?
Ans: Financial Action Task Force (FATF)
5. Which Union Territory got the first rank in India Innovation Index 2019?
Ans: Delhi
6. What percentage of Indian Children are underweight as per the recently released UNICEF report?
Ans: 33 percent
7. According to the report released by which international organization, India's economic growth rate for the year 2019 and 2020 will be 6.1% and 7% respectively?
Ans: IMF
8. How many agreements have been signed between China and Nepal during a bilateral meeting?
Ans: 20
9. Which state is celebrating Shirui Lily Festival 2019?
Ans: Manipur
10. Union Minister for Road Transport Nitin Gadkari recently announced the construction of new National Highway NH- 703AA connecting Gobindwal Sahib and Taran Tarana in Punjab. The Road is named after which Guru?
Ans: Guru Nanak Dev
11. What percentage of growth was recorded in the 2019 Livestock Census in India?
Ans: 4.63 percent
12. Which country is opening its first graduate-level, research-based AI university in the world?
Ans: UAE
13. What is the name of India and Oman Air force Joint Exercise?
Ans: Ex-Eastern Bridge-V