GK Questions 6th June 2019 General Knowledge, Current Affairs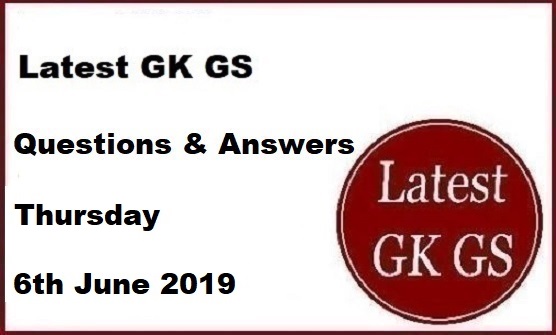 Daily GK Questions Thursday 6th June 2019 General Knowledge, Current Affairs
1. When is World Environment Day observed?
Ans: -June 5th
2. When is International Day for the Fight against Illegal, Unreported and Unregulated Fishing observed?
Ans: -June 5th
3. Union Environment Ministry launched which campaign on the occasion of World Environment Day?
Ans:- SelfiewithSapling
4. India wins its first match of cricket world cup 2019 on 5th June 2019, against which country?
Ans:- South Africa

5. PM Narendra Modi formed 2 Cabinet Committees to tackle what issues of India?
Ans:- Economic growth & Unemployment

6. Indian Meteorological Department (IMD) appointed whom as new Director General?
Ans:- Mrutyunjay Mohapatra

7. UN Russian Language Day observed on which date?
Ans:- 6th June
8. Veteran Malayalam actress Sheela wins which award for her contributions to Malayalam Cinema?
Ans:- J C Daniel Award

9. Recently. India's DRDO test fired which Supersonic Cruise missile from Odisha?
Ans:- Brahmos Missile
10. Islamic religious festival 'Eid Ul Fitr 2019' celebrations were held on which date?
Ans:- 5th June 2019
11. Who became the most capped India player by surpassing Bhaichung Bhutia's 107 international matches?
Ans:- Sunil Chhetri