Indian Lawyer & Politician Ram Jethmalani passed away at age of 95 years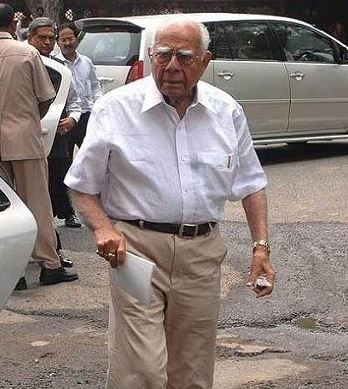 Indian Lawyer & Politician Ram Jethmalani passed away at age of 95 years: Details, Career, Highlights
Indian famous lawyer, politician and former Union Minister Ram Jethmalani on 8th September 20019, passed away at the age of 95 years in New Delhi. He died due to age-related illness.
Ram Jethmalani has an eminent record of handling high profile law cases being a 'Criminal' lawyer. He was the highest-paid lawyer in the supreme court of India.
Ram Jethmalani, full name 'Ram Boolchand Jethmalani' was born on 14 September 1923, Shikarpur, Pakistan.
Ram Jethmalani completed LL.B. degree at S.C. Shahani Law College, Karachi with a first-class of marks at the young age of 17. Later, he received an LL.M degree also.
Ram Jethmalani had served as India's Union Law Minister, Development Minister, Member of Parliament and as chairman of the Bar Council of India.
Ram Jethmalani was Union Minister of Law and Justice for two times first from June 1999 to July 2000 and then from 16 May 1996 to 1 June 1996, Union Minister of Urban Development from 19 March 1998 to 14 June 1999 under regime of former Prime Minister Atal Vihari Bajpayee.
Ram Jethmalani was a Member of Parliament, Rajya Sabha from 8 July 2016 to 8 September 2019 till his death.
Ram Jethmalani was honored with International Jurist Award and in 1977 Human Rights Award instituted by World Peace Through Law for his fight against authoritarianism in the Philippines.
Ram Jethmalani also wrote several law-related books and co-authored various legal scholarly books on fields of law such as criminal law, administrative law, and media law.