Updated By: LatestGKGS Desk
Death of India's famous personalities on 24th December 2018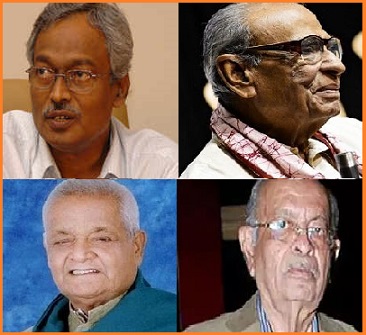 Death of India's famous personalities on 24th December 2018: Names, Profile, Highlights
1. CPI (M) leader Nirupam Sen passes away in West Bengal
A veteran leader of the Communist Party of India (Marxist), Nirupam Sen who had served as the Commerce and industry minister of West Bengal passed away at a city Hospital in Kolkata, West Bengal following a cardiac arrest at the age of 72 years.
Nirupam Singh is credited as the architect of West Bengal's Industrial drive during the Left Front rule. He was a three-time Member of the Legislative Assembly (MLA) from Bardhaman Dakshin Constituency of West Bengal.
2. Former Union Minister Jai Narain Prasad Nishad passes away in NewDelhi
Former Union Minister, Captain Jai Narain Prasad Nishad died at Max Hospital in Delhi after a prolonged illness at the age of 88 years.
Jai Narain Prasad Nishad was a Member of Parliament (MP) from the Muzaffarpur constituency in Bihar. He served as the Union Minister of State, Environment, and Forests (Independent Charge) during 1996-97.
3. Rabindra Sangeet Exponent Dwijen Mukhopadhyay passes away in West Bengal
Veteran Rabindra Sangeet singer Dwijen Mukhopadhyay died at his residence in Salt Lake, West Bengal following various age-related ailments at the age of 91 years.
Dwijen Mukhopadhyay was known for his rendition of 'Jagoo Durga' on All India Radio and he was honored with Padmabhushan and Banga Bibhusan. He was born in 1927 and recorded over 1000 songs of Tagore during his lifetime.
4. Padma Shri and Former Mumbai Mayor Nana Chudasama passes away in Maharashtra
Former Mumbai Mayor and a 2005 Padma Shri awardee Nana Chudasama died at the age of 85 years after a brief illness in Mumbai, Maharashtra.

He was a jurist and a social worker & was the founder of non-governmental organizations Giants International, I Love Mumbai, National Kidney Foundation, and Forum Against Drugs and AIDS.
Chudasama was also known for putting up banners in Mumbai's Marine Drive area for decades carrying expressive messages about national and international stories of importance.