GK Questions 7th September 2019 General Knowledge, Current Affairs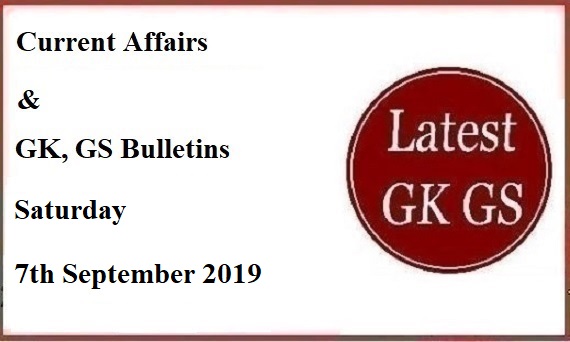 Daily GK Questions Saturday 7th September 2019 General Knowledge, Current Affairs
0. ISRO lost communication with Chandrayaan-2 on its landing before how many kilometers away from moon?
Ans: 2.1 Kms
1. Robert Mugabe passed away at the age of 95 on September 6, 2019. He served as the President of which nation for almost four decades?
Ans: Zimbabwe
2. Which place won the Best Swachh Iconic Place award in Swachh Bharat Mission Awards?
Ans: Vaishno Devi
3. Which among the following Ministries won the Swachh Bharat award in Swachhta Action Plan category?
Ans: Ministry of Railways
4. Which city is hosting the 28th edition of India-Thailand Coordinated Patrol exercise?
Ans: Bangkok
5. When is the International Literacy Day observed every year?
Ans: 8th September
6. Which city will host the Sixth India-China Strategic Economic Dialogue 2019?
Ans: New Delhi
7. Which country is ranked 10th in terms of gold reserves, as per the recent survey of World Gold Council?
Ans: India
8. Which Indian wrestler has been given top priority in World wrestling championship?
Ans: Bajrang Punia
9. Which automobile company recently closed its manufacturing plant for five days in Chennai?
Ans: Ashok Leyland
10. Which country has temporarily closed its diplomatic missions in Nigeria?
Ans: South Africa
11. India has offered how much 'Line of Credit' for the Russian Far East region?
Ans: USD 1 billion
12. When is the International Day of Charity observed every year?
Ans: 5th September