GK Questions 10th September 2019 General Knowledge, Current Affairs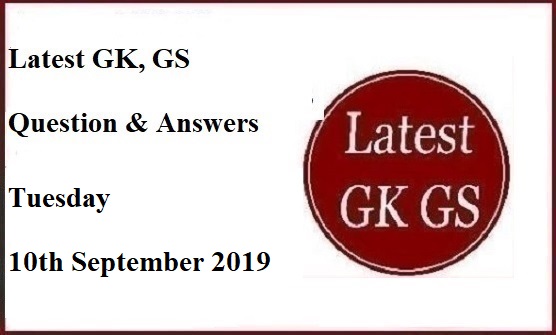 Daily GK Questions Tuesday 10th September 2019 General Knowledge, Current Affairs
1. When is the World Suicide Prevention Day observed every year?
Ans: 10th September 2019
1. Which among the following Union Territories will have a common high court?
Ans: Jammu & Kashmir and Ladakh
2. India has announced one million dollar humanitarian aid to which nation?
Ans: Bahamas
3. Which nation's president announced recently that he has canceled his secret meeting with the Taliban leaders and Afghanistan President?
Ans: United States
4. Which Indian famous Lawyer & Politician (MP) passed away at the age of 95 years on 8th September 2019?
Ans: Ram Jethmalani
5. The Asian Development Bank (ADB) and Indian Government signed USD 200 million loan agreement to upgrade rural roads in which State?
Ans: Maharashtra
6. Which city hosted the 'ANGAN', an international Conference on Energy Efficiency in Building Sector?
Ans: New Delhi
7. Which of the following personalities has been bestowed with the 2019 Ramon Magsaysay Award?
Ans: Ravish Kumar
8. What is the name of the book based on the speeches of President Ramnath Kovind, whose second edition was recently released by the Vice President?
Ans: Loktantra Ke Swar
9. How many times has Spain's star tennis player Rafael Nadal won the US Open title?
Ans: 19
10. What is the name of the first Canadian women tennis player who recently won the US Open 2019 title?
Ans: Bianca Andreescu