GK Questions 9th September 2019 General Knowledge, Current Affairs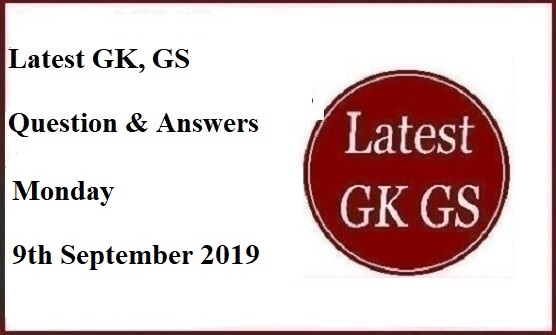 Daily GK Questions Monday 9th September 2019 General Knowledge, Current Affairs
1. Which Indian famous Lawyer & Politician (MP) passed away at the age of 95 years on 8th September 2019?
Ans: Ram Jethmalani
2. Which countries conducting 9th maritime fleet naval exercise SLINEX 2019 in Vishakhapatnam?
Ans: India and Sri Lanka
3. Who wins U.S. Open Title 2019?
4. Where is the 14th Conference of Parties (COP-14) of the UNCCD taking place in India?
Ans: Greater Noida, Uttar Pradesh

5. What is the name of Afghanistan's all-rounder who took retirement from test cricket?
Ans: Mohammad Nabi
6. Modi Government recently passes over Rs 5,000 crore for which project of Air Force?
Ans: Akash missile project
7. Where is India's first fun zone has been set up by the Railways?
Ans: Visakhapatnam Railway Station
8. Where did PM Narendra Modi lays the foundation of three metro corridors?
Ans: Mumbai
9. Which city is hosting the 28th edition of India-Thailand Coordinated Patrol exercise?
Ans: Bangkok
10. When is the International Literacy Day observed every year?
Ans: 8th September