GK Questions 11th September 2019 General Knowledge, Current Affairs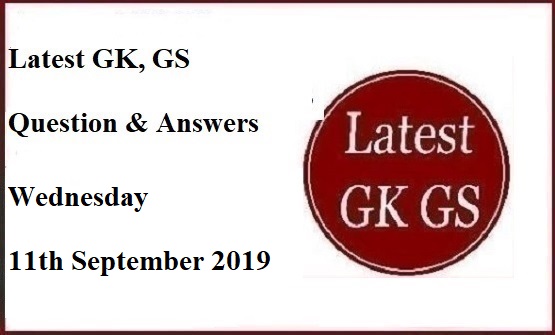 Daily GK Questions Wednesday 11th September 2019 General Knowledge, Current Affairs
1. Jack Ma stepped down as the Chairman of which among the following companies?
Ans: Alibaba
2. When will the National Animal Disease Control Programme be launched?
Ans: 11th September 2019
3. Which body has urged India to end lockdown, curfew in Jammu and Kashmir?
Ans: UNHRC
4. PM has inaugurated South Asia's first cross-border oil pipeline. The pipeline will connect India with which nation?
Ans: Nepal
5. Union Government has set up a panel consisting of how many members to oversee bifurcation of J&K into two Union Territories?
Ans: Three
6. Which committee has been constituted by the Union Government to oversee the bifurcation of Jammu and Kashmir (J&K) into Union Territories?
Ans: Sanjay Mitra Committee
7. Which Committee has been de-recognized recently for violation of Sports Code?
Ans: Paralympic Committee of India
8. India's second Multi-Modal Terminal (MMT) will soon be inaugurated by PM Modi. The Terminal is located in which city?
Ans: Sahibganj
9. Who took oath as the Governor of Rajasthan recently?
Ans: Kalraj Mishra