Updated By: LatestGKGS Desk
Shinjo Abe resigned as Prime Minister of Japan on 28th August 2020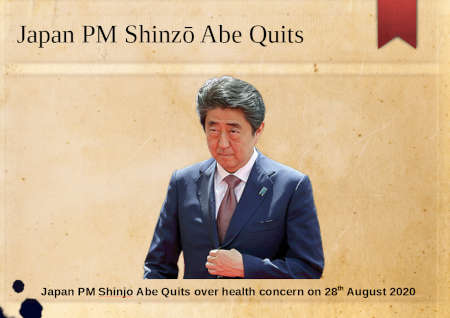 Japan Prime Minister Shinzō Abe retires on 28th August 2020 following critical illness Ulcerative Colitis.
Today Friday, 28th August 2020 one of the most powerful politicians of the world and Japan's PM Shinjo Abe took retirement from his office due to Ulcerative Colitis illness.
Prime Minister Shinjo Abe tenure as Prime Minister of Japan officially ending in September 2021.
This time following his critical illness his majority of office time getting spend in the hospital. Latest updates from Japan indicating Japan to get a new Prime Minister from the ruling Party replacing ailing PM Shinjo Abe.
Last time Shinjo Abe gave his resignation following corruption charges against one of the cabinet ministers in 2007. He is suffering from his long term illness after losing the election to the opponent next year.
On the terms of rulers ruling in Japan, Shinjo Abe passes the maximum number of years of ruling by a leader in Japan more than his great uncle Aisaku Sato.
Latest Shinzō Abe Updates