Updated By: LatestGKGS Desk
World's Largest Hydrogen Fuel Cell PowerPoint: South Korea, Shinincheon Bitdream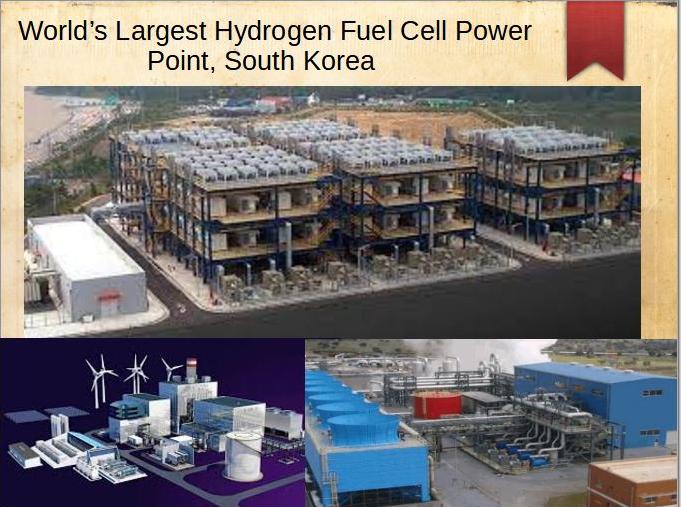 World's Largest Hydrogen Fuel Cell PowerPoint, South Korea, Shinincheon Bitdream Fuel Cell Power Plant
The Ministry of Trade, Industry, and Energy stated on the 26th that the 'Shinincheon Bitdream Fuel Cell Power Plant' was completed at Korea Southern Power's Shinincheon Bitdream headquarters in Seo-gu, Incheon.
The Shinincheon Bitdream Fuel Cell Power Plant is a 78 MW power plant that has been built in four stages since 2017 using fuel cells from POSCO Energy and Doosan Fuel Cell. It is now the world's largest operating fuel cell power plant.
Because it does not produce energy through high-temperature combustion, the hydrogen fuel cell emits very little nitrogen oxides (NOX) and sulfur oxides (SOX).
It also functions as a 'large-scale air purifier,' sucking in fine dust and filtering it out.
By purifying fine dust produced from the LNG (liquefied natural gas) thermal power plant at the Shinincheon Bitdream headquarters on a big scale, the fuel cell power plant installed at this time is projected to contribute to delivering clean air to local inhabitants.
It will produce hot water for heating as a by-product of the power production process, which will be used by around 44,000 houses at the same time, and will reliably offer inexpensive heat through local heating firms.
Latest South Korea Updates