Updated By: LatestGKGS Desk
Teacher of the Year 2018 Awards distribution by PM on Teachers Day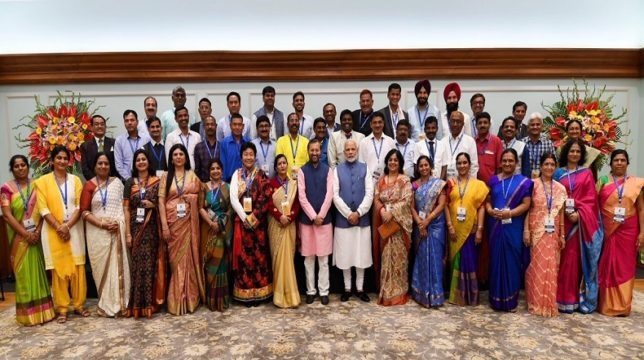 Prime Minister Narendra Modi gives awards to Teachers with Teacher of the Year Award 2018 on Teachers Day
The Prime Minister presented with the National Teacher Award honored teachers On the occasion of Teacher's Day.
Let's know about some of the teachers who make special contributions
Mohammad Imran Khan Mawati of Alwar has created many applications. Their application covers primary and secondary level as well as the subject of competitive examinations.
Baldev of Junagadh Gujarat has made mathematics quite enjoyable for the students.
Manu Gulati has developed a unique way of teaching through technology, music, and dance.
Shivakumar from Karnataka made mathematics easier for his students with the help of technology.
Kirandeep Singh has done a great job to increase the interest in mathematics among the students. They have developed a Maths Hub, Maths Park and have created quite interesting modules.
Shashank Hazarika encouraged the use of computers in the school and software for classroom development.
Shisha is a teacher from Central School, Begumpet, Hyderabad, has developed a unique way of teaching English. It is popular with students and fellow teachers.
Dr. Suman Jakhar is the principal in Churu, a school in Rajasthan. Thanks to their efforts, the number of girl students in school increased significantly.
Sunil Kumar is from the Kangra district of Himachal Pradesh. He worked hard to promote cleanliness in schools.
Sushila explained the importance of education to the local people and took steps to attract more and more children to the school.
Suetapur Sur of Tripura is the inspiration for everyone. He emphasized education through extra-curricular and cultural practices.
Vikram of Ahmednagar has set an example of the use of innovation and technology. They resorted to unique techniques to teach outdoors, including outdoor activities.