Updated By: LatestGKGS Desk
World Teachers' Day: 5 October 2021, Theme, Detail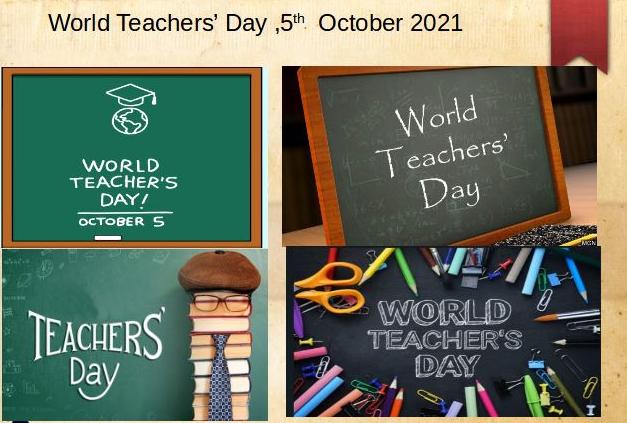 World Teachers' Day Celebrations On 5th October 2021:Theme, Detail
Every year on October 5, World Teachers' Day is celebrated. It is a day to recognize teachers for their contributions to our classrooms and communities, as well as their role in shaping the global future.\
Teachers empower the next generation of global citizens by instilling knowledge, values, and ethics, all of which are essential components of a well-functioning society. World Teachers' Day provides an opportunity to elevate teachers in ways that foster respect for both the people and the profession. World Teachers' Day emphasizes the importance of supporting, providing for, and empowering teachers as the global community strives for sustainable societies and quality education for all.
The World Teachers' Day commemorates the adoption of the United Nations Educational, Science and Culture Organization (UNESCO/ILO) Recommendation on the Status of Teachers. The recommendation, signed on October 5, 1966, established international standards for teachers' rights and responsibilities.
A Good Education: The Foundation For A Successful life
Teachers have a strong influence on keeping children in school and shaping the quality of a child's education. Teachers pass on knowledge and teach students of all ages how to solve problems, collaborate, process information, think critically, and make sound decisions.
A Good mentor shape the lives that shape the world in today's rapidly changing, interconnected, and interdependent world.
Teachers lay the groundwork for students to enjoy life, provide for their families, and dream of new possibilities. They instill in their students the ability to question, challenge, and envision new ways of doing business.
Quality teachers contribute to the development of new products and solutions to long-standing issues such as disease, hunger, poverty, and inequality.
Theme Of World Teachers Day,2021:
"Teachers at the Heart of Education Recovery" is the theme of World Teachers Day 2021.
The United Nations Educational, Science and Culture Organization(UNESCO) chose this theme for World Teachers Day to honor teachers perseverance and dedication during the critical stages of the Covid-19 pandemic.