Updated By: LatestGKGS Desk
Telecom Commission Approved In-Flight Mobile Connectivity In Indian Airspace Details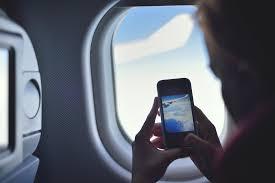 Telecom Commission Approved In-Flight Mobile Connectivity In Indian Airspace- Details, Features, Importance
Telecom Commission has now approved in-flight mobile connectivity in Indian airspace, allowing people to make phone calls and use internet services in flights over Indian airspace, with certain riders.
Telecom Secretary Aruna Sundararajan nodded with the approval on 1st May 2018 after the recommendation of Telecom Regulatory Authority of India (TRAI) months before.
In-Flight Connectivity (IFC)
The Internet and Mobile Communication on Aircraft (MCA) service will be implemented as In-Flight Connectivity (IFC) in the Indian airspace.
The MCA services will be permitted with the minimum height restriction of 3000 metres in Indian airspace for its compatibility with terrestrial mobile networks.
A flight generally attains the altitude of 3000 metres about four-five minutes after take-off.
The government of India will now look towards creating the licensing framework for a special category of service providers called 'In-flight connectivity provider'.
Importance
The implementation of this facility will enhance the passenger's experience, as they'll be able to order products from their phones and tablets and having them delivered to their homes or the hotel on arrival at their destination.
With this in-flight mobile connectivity, cabin crews will be able to help passengers to change their onward transit plans to accommodate changes to their flight, while they are still flying.