Updated By: LatestGKGS Desk
World Laughter Day Observed On 6th May 2018 Theme, Details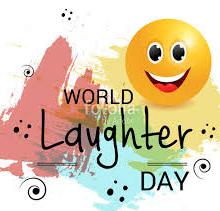 World Laughter Day Observed On 6th May 2018- Theme, Details, Benefits
World Laughter Day is observed on 6th May 2018. It is marked on the first Sunday of May every year around the world.
World Laughter Day is an annual event celebrated to raise awareness about laughter and its various healing benefits.
World Laughter Day was first celebrated on 10th May 1998 by Dr. Madan Kataria founder of the worldwide Laughter Yoga movement in Mumbai, India.
World Laughter Day which was initiated by Dr. Kataria, a family doctor in India, started the Laughter Yoga movement in part by the facial feedback hypothesis, which postulates that a person's facial expressions can have an effect on their emotions.
World Laughter Day is most often celebrated by gatherings of people in public places with the main purpose of laughing. Its popularity has grown exponentially with that of the Laughter Yoga movement now counting thousands of Laughter Clubs in more than 105 countries.
Laughter Therapy
Laughter Therapy is a form of therapy is the process of using humor to help the body to relieve physical and mental stress. Patients suffering from chronic diseases are often recommended to practice this therapy.
Benefits of Laughter
Laughter has many health benefits such as It relaxes the human body, Help to live longer; Boosts Immune System, Releases Endorphins; Protects the heart; Burns Calories; Lightens Anger & Stress.