Updated By: LatestGKGS Desk
Elon Musk,Time magazine's 2021 Awards, Achievements in Space Technology Research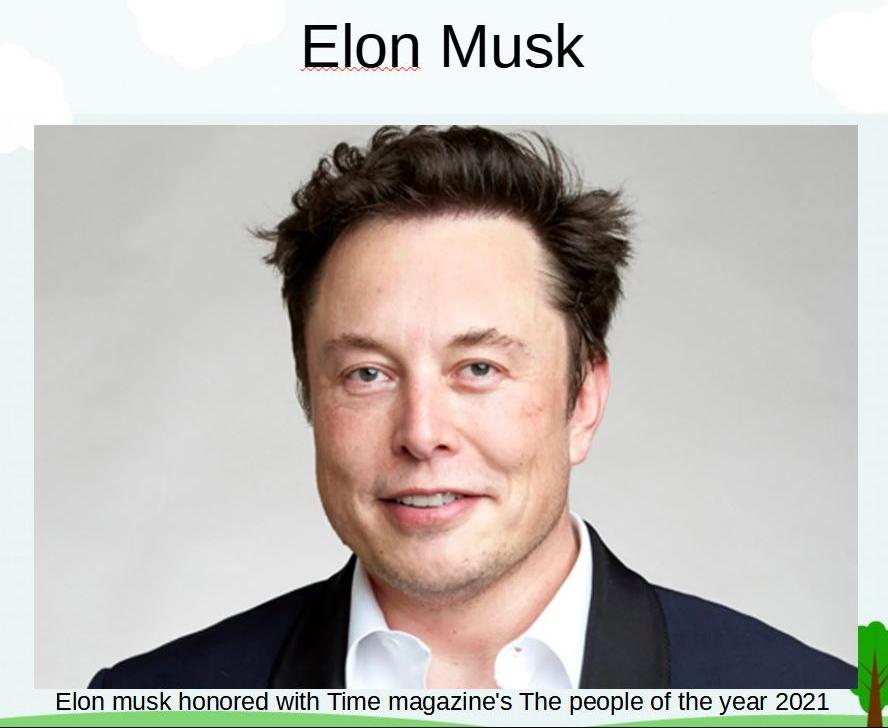 Elon musk honored with Time magazine's The people of the year 2021
Elon Musk, the creator and CEO of the SpaceX space exploration business, just surpassed Amazon founder Jeff Bezos as the world's wealthiest person.
Mr. Musk, who is also the founder and CEO of the space exploration business SpaceX, recently surpassed Amazon founder Jeff Bezos as the world's wealthiest person, with his net worth soaring to about $300 billion as Tesla's stock price rose. He owns almost 17% of Tesla's shares, which sold for nearly $1,000 per share on Monday.
Mr. Musk's accomplishments, according to Time, range from his founding of SpaceX in 2002 to his involvement in the creation of the alternative energy company SolarCity, in addition to Tesla, the world's most valuable car company. The journal underlines that its annual honour is not a reward, but rather "recognition of the individual who had the greatest impact on the events of the year, for good or for evil."
Mr. Musk has an army of ardent fans (and investors) on social media, where he skewers the powerful as well as regulators attempting to keep an out-of-control leader in check, according to the magazine. He gives outrageous assistance to the world in front of his 66 million Twitter followers, and roils markets driving even his own followers and investors insane.
Despite the fact that it only became profitable in recent years, Tesla is by far the most valuable automobile company on the planet, with a market capitalization of $1 trillion at one time this year. Ford and General Motors, two Detroit heavyweights, are worth less than $200 billion combined.
Last month, Mr. Musk announced that SpaceX would attempt to launch its futuristic bullet-shaped Starship into space in January. NASA has signed a contract with SpaceX to deploy Starship to transport astronauts to the moon's surface as soon as 2025. Mr. Musk stated that he intends to use the reusable ships to land people on Mars in the future.
Mr. Musk recently admitted to his 66 million Twitter followers that half of his tweets were "written on a porcelain throne," according to Time. Time went on to explain one of those toilet Twitter storms in their profile of the outspoken CEO before concluding, "This is the man who desires to preserve our world and get us a new one to inhabit."