Union Cabinet approved Indore Metro Rail Project consisting Ring Line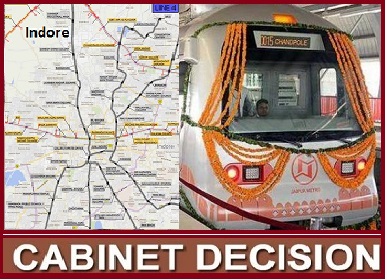 Union Cabinet approved Indore Metro Rail Project consisting Ring Line: Details, Highlights
The Union Cabinet chaired by PM Narendra Modi on 4th October 2018 approved the implementation of Indore Metro Rail Project comprising Ring Line of length 31.55 Km from Bengali Square - Vijay Nagar - Bhawarsala - Airport - Patasia - Bengali Square.
The Ring line will connect major public nodes and city cluster areas of Indore. The numbers of stations on the Ring Line are 30.
The Indore Metro Rail Project will provide continuous availability of affordable, reliable, safe, secure and seamless transport system in the urban agglomeration of the city
It will reduce the accidents, pollution, travel time, energy consumption, anti-social incidents as well as regulate urban expansion and land use for sustainable development.
The estimated cost of the project is Rs 7500.80 crore and the project will be completed in four years.
The corridors will have Multimodal Integration with Railway Station & BRTS Stations and feeder network of Bus, Intermediate Public Transport (IPT) and Non-Motorised Transport (NMT).
The Indore Metro Rail Project will have non-fare box revenue from rental and advertisement as well as Value Capture Financing (VCF) through a mechanism of Transit Oriented Development (TOD) and Transfer of Development Rights (TDR).
Madhya Pradesh
Capital: Bhopal
Largest City: Indore
Districts: 52
Governor: Anandiben Patel
Chief Minister: Shivraj Singh Chouhan