Updated By: LatestGKGS Desk
VP Venkaiah Naidu book Moving On… Moving Forward: A Year in Office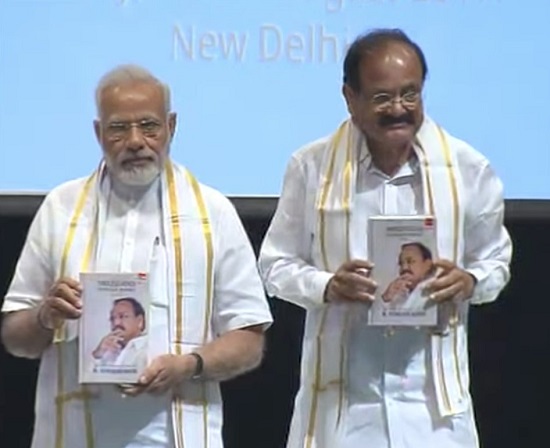 Vice President of India Venkaiah Naidu book Moving On... Moving Forward: A Year in Office release event, book features
Prime Minister Narendra Modi released Venkaiah Naidu's book Moving On… Moving Forward: A Year in Office on 2nd Septemeber 2018. The book is based on his experiences during the first year as the Vice President of India and Chairman of Rajya Sabha.
The 245-page book brings out Venkaiah Naidu's mission of engagement on four key issues with various stakeholders across the country and its alignment with the mission of a new India in the making. The book has 465 illustrations and seven chapters, including a detailed one on various initiatives taken by him as Chairman of Rajya Sabha.
Venkaiah Naidu identifies these core issues as an unrealized demographic dividend, need for an effective ecosystem for farmers to thrive and bridge the rural-urban divide, orienting scientific advancements to better the lives of the people, and enhancing public awareness about the rich Indian heritage.
As per the book Any discrimination on the basis of religion, any discrimination on the basis of caste, any discrimination on the basis of gender, is not acceptable to any nationalist.
Lok Sabha Speaker Sumitra Mahajan, Finance Minister Arun Jaitley and Deputy Leader of the Opposition in the Rajya Sabha Anand Sharma were present on this event.
Latest Venkaiah Naidu Updates