Updated By: LatestGKGS Desk
A new species of non-venomous aquatic snake Aquatic Rhabdops discovered Western Ghats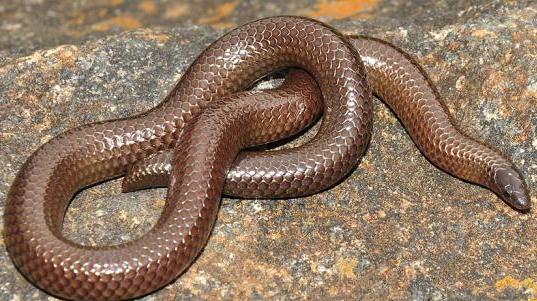 A new species of non-venomous aquatic snake Aquatic Rhabdops discovered the Western Ghats
A new species of non-venomous aquatic snake has discovered and described as new species from the northern Western Ghats in Maharashtra, Goa and North Karnataka.
The non-venomous aquatic snake named Aquatic Rhabdops has been misidentified since 1863.
The discovery regarding aquatic "Rhabdops snake" recently published in journal Zootaxa.
Earlier, It was considered as a variant of Olive Forest Snake, first described in 1863.
Aquatic Rhabdops different colors and patterns, features of size, shape, and structure, and genetic make-up
* Aquatic Rhabdops snakes belong to genus Rhabdops which are endemic to India.
* The aquatic snake has been named after its aquatic nature since the adults are mostly associated with freshwater forest streams and juveniles are seen in water-logged areas.
* The three-foot-long nocturnal snake hunts for prey underwater.
* Adults of the Aquatic Rhabdops have off-white bellies and black spots on their olive brown skin, juveniles are olive green, with yellow undersides.
* This color difference in life stages could possibly be due to the different local habitats.