Updated By: LatestGKGS Desk
7th October: World Habitat Day 2019 Theme, Details, Aim, Significance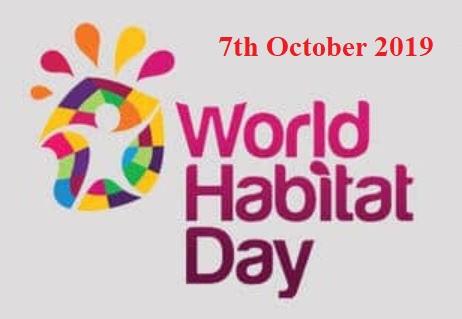 7th October: World Habitat Day 2019 Theme, Details, Aim, Significance
World Habitat Day is celebrated every year on the first Monday of October month around the world.
World Habitat Day 2019, this year will be celebrated on the first Monday, which is on 7th October 2019.
World Habitat Day 2019 theme is not decided yet but the theme of 2018 was "Municipal Solid Waste Management".
World Habitat Day is to reflect on the state of our towns and cities, and on the basic right of all to adequate shelter.
World Habitat Day celebrations involve the plan to alter the systems which emphasize poverty housing as well as planning affordable housing for all
World Habitat Day was instituted in 1985 by the United Nations General Assembly (UNGA) through Resolution 40/202.
World Habitat Day was first celebrated in the year 1986. The declaration is intended to remind the world of its power and responsibility to shape the future of all cities and towns.