Updated By: LatestGKGS Desk
World Mental Health Day 2021: Theme, Significance, Details, History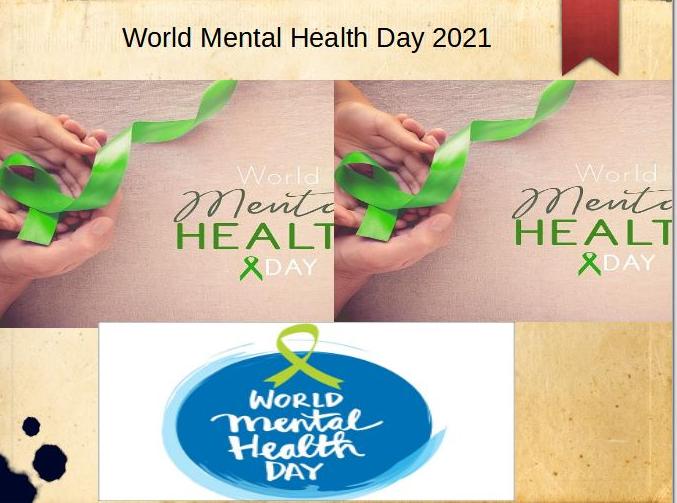 World Mental Health Day 2021 Celebration, Theme, Detail, History
World Mental Health Day is celebrated on 10th October every year.
The overall goal of World Mental Health Day is to raise global awareness of mental health issues and organize support for mental health initiatives.
The Day allows all parties involved in mental health issues to discuss their work and what more needs to be done to make mental health care a reality for people all around the world.
People's mental health has been severely impacted by the COVID-19 pandemic. Some groups have been particularly affected, including health and other frontline workers, students, persons living alone, and those with pre-existing mental health disorders. Furthermore, assistance for mental, neurological, and substance abuse diseases have been severely hampered.
There is, however, a reason to be optimistic. Governments from all across the globe recognized the need to scale up effective mental health services at all levels during the World Health Assembly in May 2021. In addition, some countries have devised novel approaches of providing mental health care to their citizens.
We will highlight the efforts undertaken in some of these countries as part of this year's World Mental Health Day campaign, and we encourage you to highlight positive stories as part of your own activities as an inspiration to others.
We'll also provide new materials in easy-to-understand formats on how to look after your own mental health and help others. Furthermore, we hope you find them helpful.
The theme of the Day
The theme for the forthcoming World Mental Health Day 2021 on October 10 is "Mental Health in an Unequal World," emphasizing the urgent need to focus enough on health beyond the physical in a world still fighting the coronavirus.
The History of World Mental Health Day
On October 10, 1992, the first World Mental Health Day was observed. Richard Hunter, then-Deputy Secretary-General of the World Federation for Mental Health, established it as an annual activity of the World Federation for Mental Health. Every year on October 10th, the day is officially honored.