Updated By: LatestGKGS Desk
15th October: World Students' Day 2019 Celebrations Details, Aim, Significance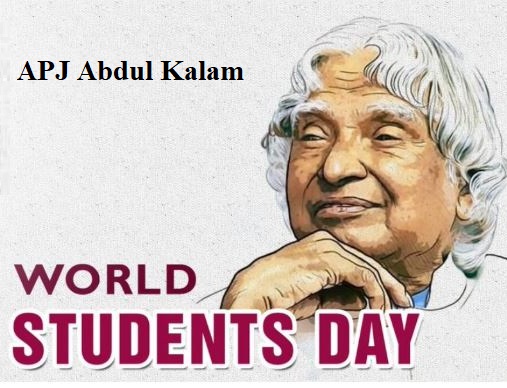 15th October: World Students' Day 2019 Celebrations Details, Aim, Significance
World Students' Day is celebrated every year on 15 October around the world to mark the birth anniversary of former President of India, APJ Abdul Kalam.
World Students' Day honors and pays tribute to him and his efforts in the field of science and technology and also the role of the teacher that he played throughout his scientific and political careers.
APJ Abdul Kalam was a dedicated person who spent his life teaching and identified himself first as a teacher and then as anything else.
Abdul Kalam was the youngest of five siblings
APJ Abdul Kalam
APJ Abdul Kalam, full name 'Avul Pakir Jainulabdeen Abdul Kalam'. He was popularly known as the Missile Man of India. He was an Indian scientist and a politician.
APJ Abdul Kalam played a crucial role in the development of India's missile and nuclear weapons programs.
APJ Abdul Kalam was born on 15 October 1931 to a Tamil Muslim family in Rameswaram in Tamil Nadu. His father's name was Jainulabdeen, who was a boat owner and imam of a local mosque. His mother's name was Ashiamma, who was a housewife.
APJ Abdul Kalam completed his graduation in 1957 from the Madras Institute of Technology and in 1958 as a scientist he had joined the Aeronautical Development Establishment of the Defence Research and Development Organisation (DRDO)
APJ Abdul Kalam remained as a President of India (2002 to 2007).
APJ Abdul Kalam suffered a cardiac arrest while delivering a lecture to the students of IIM Shillong on 27th July 2015.