UP CM Yogi Adityanath govt #Deepotsav celebration in Ayodhya on 18th Oct 2017 detail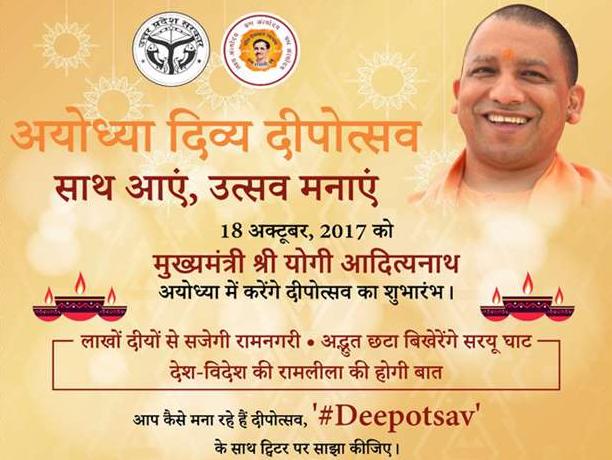 Uttar Pradesh chief minister Yogi Adityanath starts the trend #Deepotsav to celebrate Diwali at the bank of river Saryu in the ancient city Ayodhya from 18th October 2017
Uttar Pradesh tourism department make special arrangements in Lord Ram city Ayodhya to celebrate this year Diwali function.
On 18th October 2017 chief minister of Uttar Pradesh, Yogi Adityanath to take part in the Deepostsav celebration. The state government has made special arrangements for The city Ayodhya to be lightening with 1,70,000 earthen lamps.
Chief Minister Yogi Adityanath invited people across the world to share greetings on social media platform Twitter with hashtag #Deepotsav.
Union Minister for Culture Dr.Mahesh Sharma to attend the celebration on the bank of the Saryu river along with other high profile ministers and officers.
This is the first time in the history of India, Uttar Pradesh government officially celebrating the function of Deepawali at this large scale to promote the heritage of Lord Rama and tourism in ancient city Ayodhya.