Sahitya Akademi Awards 2018 Winner Names For 24 Indian Languages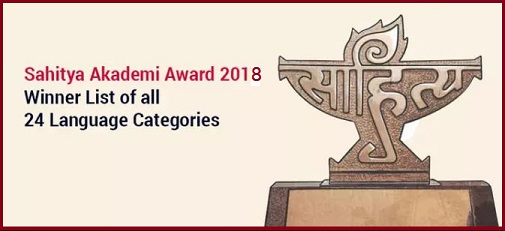 Sahitya Akademi Awards 2018 Winner Names For 24 Indian Languages: Details, Winner Names
India's national academy of letters Sahitya Akademi has announced names of 24 poets and authors who will be conferred the prestigious Sahitya Akademi Award-2018, in 24 different Indian languages.
The awards will be presented to winners at a roadshow function to be held on 29th January 2019, at New Delhi during the Festival of Letters, organized by Sahitya Akademi.
The award has recognized premier works in 24 Indian languages that include seven books of poetry, six novels, six short stories, three of literary criticism and two of essays.
The award consists of a casket containing an engraved copper-plaque (designed by film-maker Satyajit Ray), a shawl and cheque of Rs.1 Lakh.
The awardees were recommended by distinguished jury members representing 24 languages and were approved by Executive Board under the chairmanship of Dr. Chandrashekhar Kambar who is President of Sahitya Akademi.
Winner Names By Catagories
Poetry: Sananta Tanti (Assamese), Paresh Narendra Kamat (Konkani), S Ramesan Nair (Malayalam) and Dr Rama Kant Shukla (Sanskrit), Dr. Mohanjit (Punjabi), Dr. Rajesh Kumar Vyas (Rajasthani) and Khiman U Mulani (Sindhi).
Short stories: Sanjib Chattopadhyay (Bengali), Mushtaq Ahmed Mushtaq (Kashmiri), Prof Bina Thakur (Maithili), Rituraj Basumatary (Bodo), Prof. Budhichandra Heisnamba (Manipuri) and Nath Upadhyay Chapagain (Nepali).
Novel: Inderjeet Kesar (Dogri), Anees Salim (English), Chitra Mudgal (Hindi), Shyam Besra (Santali), Ramkrishnan (Tamil) and Rahman Abbas (Urdu).
Literary Criticism: KG Nagarajappa (Kannada), Ma. Su. Patil (Marathi) and Prof. Dasarathi Das (Odia).
Essays: Prof. Sharifa Vijliwala (Gujarati) and Dr. Kolakaluri Enoch (Telugu).
Bhasha Salman 2017 and 2018
Sahitya Akademi also announced its Bhasha Salman for the years 2017 and 2018. Yogendra Nath Sharma was awarded for North zone; Gagendra Nath Das for Eastern zone; G Venkatasubbiah for South zone; and Shailaja Bapat for Western zone.
About Sahitya Akademi Awards
It is literary honor that is conferred annually on Indian writers for their outstanding works of literary merit.
Established: 1954