GK Question 12th Oct 2018 Current Affairs, General Knowledge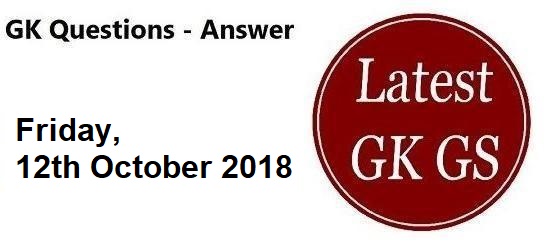 Daily GK Question Friday, 12th Oct 2018 Current Affairs, General Knowledge
1. Who was recently appointed as the new Solicitor General of India?
Ans:- Tushar Mehta
2. According to the Henley Passport Index 2018, which country's passport has surpassed Singapore as the world's most powerful passport?
Ans:- Japan
3. According to HSBC's annual expat explorer report, what is the best country in the world to live and work, and it is top of the list for the last four years?
Ans:- Singapore
4. What is the name of a cyclonic storm that has recently arrived in South Indian states?
Ans:- Titali Cyclone
5. When has the Ministry of Environment and Climate Change announced the first National Environmental Survey of India in 24 states and three Union Territories?
Ans:- January 2019
6. The Supreme Court has given nine months to remove the cafe being run for acid attack victims?
Ans:- Sheroes hangout
7. According to the Boston Consulting Group (BCG), for which year will India become the 11th richest country in the world?
Ans:- the Year 2022
8. According to the report released Tuesday by Research firm Oxfam, which country is ranked 147th in the list of 157 countries in terms of commitment to removing inequality?
Ans:- India
9. Which African country has cancelled the deal to build a 'Mimmah Airport' with a Chinese $ 40 million in the country?
Ans:- Sierra Leone
10. World's first bioelectric medicine was developed by Which University?
Ans:- Washington University